Podcast: Play in new window | Download
Saving energy with a window that darkens on demand
Smart lighting is currently en vogue, but how about smart darkening? A new 'smart window' can turn from clear to opaque on demand in order to control the amount of light that enters buildings and cars. Inside of the window pane is a layer of nickel oxide, lithium ions, and electrolyte gel coating. When a current is applied to the layers, the nickel oxide absorbs the lithium ions and turns opaque. The mechanism blocks 94% of light within 60 seconds of transitioning. Also great for people as pale as I am, who want to sit by a window without frying.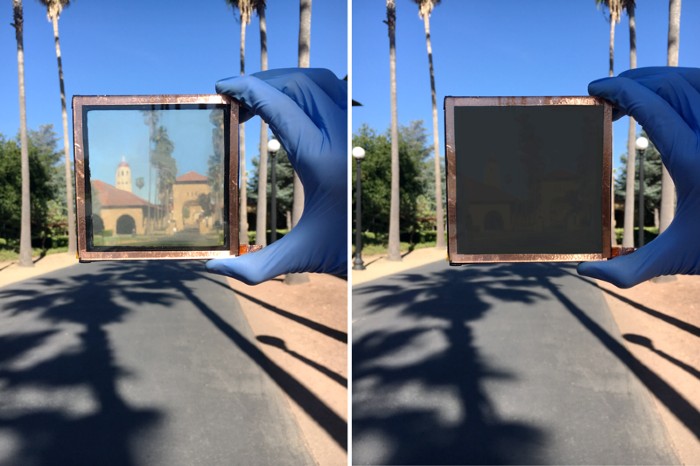 Read More at Nature

Magic Leap wants to create a digital AR layer across the entire planet
You may have already seen demos of Magic Leap's AR goggles that allow a user to create miniature T-Rex and Star Wars Porgs to run around his living room. This is a neat trick, but it's a very thin example of how augmented reality can bring a physical space to life in new ways. In a blog post over the weekend, Magic Leap expanded on its vision to create the Magicverse, which is a digital augmented reality layer – or layers – over the physical world. At any physical location in the real world, there could exist a series of digital layers that provide new contexts and experiences, for example a layer that focuses on health and wellness, and another that focuses on entertainment. With a simple command, your location could be morphed into something completely new. Magic Leap imagines that creatives will help build the MagicVerse, and that an AR user could access different layers as easily as toggling between YouTube channels, to be provided with a new experience.
Read More at Magic Leap

AI can be used to improve your phone's battery life
Melbourne researchers are using AI to save your smartphone some battery life. Instead of relying on power-hungry sensors, they're using software to make personalized predictions about your phone usage. They've found that they can predict with 93% whether you'll pick up your phone in the next 5 minutes. To determine this, they factor in time elapsed since you've used your phone, the time of the day, and how long you used your phone previously. Rather than having your phone check updates every X minutes, it can check during times when you won't be using it, which can save battery life, and improve the user experience. The answer, by the way, to whether you're going to pickup your phone in the next five minutes, is yes.Read More at phys.org

Researchers uncover the secret to bats' superior immunity
Bats live a long time, despite often harboring infectious viruses like Ebola and SARS among many other viruses that are extremely harmful to humans. A group of international researchers has discovered that the key is the bat's ability to limit inflammation. In humans and other mammals, inflammatory response helps to fight disease, but it can do damage when not controlled, as well as contribute to aging and age-related diseases. Instead of having a better ability to fight infections, bats simply have an increased tolerance for it as they're able to dampen the inflammatory response. Scientists will use this lesson in the future by shifting from an anti-pathogen perspective to an anti-disease and inflammation perspective. If you were wary of bats before this, I'm sure learning that they're riddled with Ebola and SARS didn't help.
Read More at phys.org