Podcast: Play in new window | Download
Scientists have learned the unique brain patterns of consciousness
Scientists at the University of Birmingham believe they have discovered the unique brain patterns that consciousness produces, i.e. how to tell whether someone is having an experience or not. This was previously not possible for someone, say, in a coma, who may be minimally conscious, but has no way of showing it. The new technique uses fMRI imaging to measure activity in the brain and determine how various regions are communicating with each other. They have found that in truly unconscious patients, only regions that are physically connected to each other through brain tissue communicate with each other. When consciousness is present, however, there are complex patterns of communication of unconnected regions as well.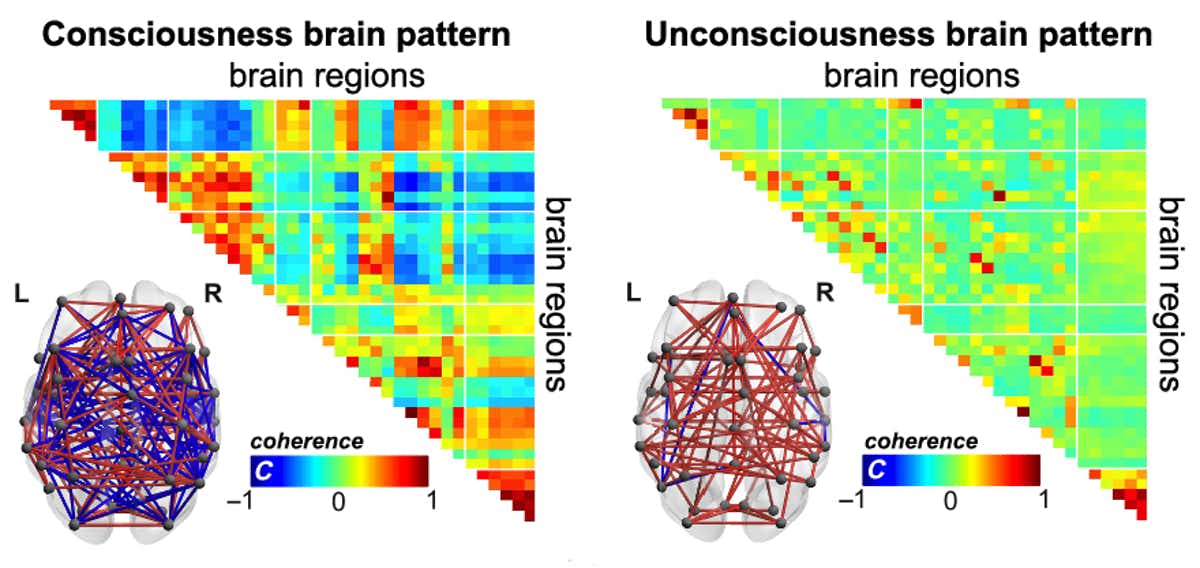 Read More at Science Alert

A robot teaches itself how to ice skate
Engineers at ETH Zurich have constructed a robot that has taught itself how to ice skate. Simply by constructing the frame and providing rudimentary instruction on how to use a single skate, the robot figured out the rest through trial and error machine learning. The video, available on BBC's website, shows a four-legged robot squeezing its front and back "knees" together, in a wave-like pattern, to scoot across the ice. While ice skating robots may not be very useful in the future, the engineers are excited about the possibility to construct robots as easy as a kid might put together LEGO blocks, and then have the robots learn to function optimally within their given build, learning to use their appendages optimally on their own accord.Read More at BBC

New fire-fighting robot design improves maneuverability
Someday soon you may be buying a calendar full of sexy robot firefighters, rather than human. Using robots to fight fires is not exactly a new innovation, but Purdue University has a game changing design that they've recently field tested with success. The new design improves the mobility of the robot by using a T-valve to flush the water in the hose, making it much lighter, when it needs to move around. Prior to this, robot movement was hampered by extremely heavy hoses that they had to drag around the scene.
Read More at phys.org

Astronauts get a smart muscle-tee that will read their vitals
Canadian astronauts have recently received a wardrobe upgrade. Quebec's Carre Technologies has partnered with the CSA to develop a smart muscle shirt, called the Astroskin (aka Hexoskin), that is embedded with sensors that can read vitals – such as breathing rate, skin temperature, oxygen levels, and blood pressure. This is an important upgrade for astronauts as it is a minimally-intrusive way to read these vitals. For this reason, it can also potentially be used for patients on the ground who cannot get out of bed or have limited access to healthcare on Earth. The only kicker, and it's a deal-breaker in my book, is that the current shirt requires 2 AA batteries that need to be replaced every 48 hours.
Read More at Futurism

Pills that contain needles can inject from inside the body
If the mere thought of a needle makes you squirm, there's an alternative drug-delivery method being developed just for you. New pea-sized pills release tiny needles that painlessly prick the inside of the stomach lining. The devices are shaped like an acorn and have a heavier stainless steel cap, meant to direct the needle to the stomach lining cap-side down. Once the needle tip dissolves, the rest of the device passes through the digestive system. At this time, the technique has been tried only with insulin in pigs, but in the future may be used for other drugs, like cancer medication, and in humans as well.
Read More at Science News

The first fabric is developed that will trap or release heat depending on conditions
You wear a fleece when it's cold, and perhaps some Lycra when it's hot, but what do you wear in an environment that is constantly in flux? Researchers at the University of Maryland have developed a fabric that can automatically regulate the amount of heat that passes through it, depending on conditions around it. So when conditions are hot and moist, like around a sweaty body, the fabric will let heat pass through it; when conditions are cold and dry, the fabric limits heat loss. The new material is made of yarn that's coated with conductive carbon nanotubes – and this dual material is what allows it to both resist and absorb water. In hot, humid conditions the yarn compacts and opens up pores in the overall fabric, cooling the wearer down. The mechanism responds nearly instantaneously, so you'll begin to cool even before you realize you're getting warm.
Read More at phys.org